Tsukushi Tsukamoto
(柄本 つくし,
Tsukamoto Tsukushi
) is the main character of
Days
and a freshman at
Seiseki High School
, where he joined the football club despite being a beginner. His squad number is #17. He's childhood friends with
Sayuri Tachibana
who lives next door and is good friends with
Jin Kazama
.
Appearance
Edit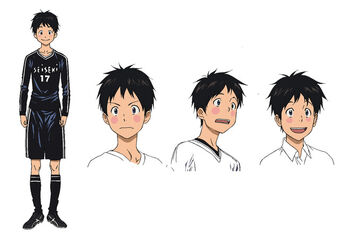 Tsukushi is a skinny boy with blue eyes and untidy dark hair.
Outside of training and matches, Tsukushi's clothes are ordinary and he often dresses in simple T-shirts and shorts. His training gear consists of school training shirts, sports shorts, and Jin Kazama's old training shoes.
When playing for Seiseki, Tsukushi wears Seiseki's black home kit or yellow away kit with black boots.
Personality
Edit
Tsukushi is very timid at first due to the incessant bullying he received but still he is extremely polite. He is very honest about his feelings, almost to the point of stupidity. He tries his best to work for the team even though he doesn't have the necessary skills and always strives to be better to ease the tension of his senpais and classmates. However, after the last match at the Inter-High Prelims against Suka High, he became more confident and started orienting his goal to get better for himself and not for others.
Although very diligent he is not that academically smart, being average at most. He will never hesitate to get the ball even when the team is in a pinch. He is very determined at finishing the plays that he has been entrusted with and although he has no other spectacular qualities, he can run for the life of him. In terms of pinch running, he is Seiseki's best. One of his only redeeming qualities as of now.
He also has the tendency to overreact when stuff abnormal, to him, happen. He is greatly identical to Seiseki's team Captain, Mizuki Hisahito, in the sense that both of them were not born talented and Mizuki had to work his way to the top. They both also only started playing football the first year of high school.
According to Usui Yuuta, Tsukamoto's grades are decent compared to his fellow freshmen, so he is still an asset to help out in the study group in the future once the seniors graduate, and may even be a decent teacher due to his perseverance.
He is very non-competitive, so he feels uneasy to be in competition between teammates, even when it is healthy and a necessary part of life in general. But as time goes on, he heaped a lot of pressure on himself to improve in all aspects of his game.
If his skills develop well, then he has the potential to be Seiseki's Fourth Arrow.
Tsukushi has been raised by his mother for the most of his life. She has greatly influenced his personality, due to being in a wheelchair and teaching Tsukushi to be considerate to people.
High Pain Tolerance: Tsukushi has displayed on many occasions that he can endure pain to an extraordinary level. Most times its because he is so concentrated on getting the ball that he doesn't notice his surroundings and bumps head-first into hard metal objects, such as the goal post, or resuming to run despite having broken toe nails. He can still move despite the pain, although during the Inter-High Prelim match against Suka High, he had to be taken out
Running: Although Tsukushi has no initial skills or talent in football he gets by, having built up his stamina when running so as not to be a nuisance for the rest of his team. He also set a superhuman pace for the mountain climb for the joint camp, and the leader pack is dominated by the freshmen of Seiseki, while Captain Mizuki fell back as he nurses a foot injury. In the pick up futsal game, he used his running to provide decoy and drawing double teams so his teammates can score. He also broke himself open after Jin was the one that drew the defenders, but Tsukamoto missed the game-tying shot in an open goal in the final. Defensively, his hustle meant he can play pressing defense, but once he no longer has support players, he gets burnt on shot fakes.
Hustle: In the game before Ryuushin High, Tsukamoto was put in as a centre back, in an effort for him to work on his defense and for him to understand the working of the processes before counter attacks occur. After the pointers given by Jirou Haibara, he became a more defensive-minded shadow forward, almost like a second right midfielder or second foward to recover loose balls and setting up for others, while completely giving up on attacking and taking shots, which worked in the team's favour because he got two assists to Mizuki in the game against Ryuushin High. However, after the miss in Inter High, he became extremely gun-shy, it was only with Jin's support on the touchline that helped him score the winning goal against Seikan on his second effort. In the comeback win over Keiou, he drew all three free kicks, but as he never made a dent on the stats sheet, it also drew him into practising free kicks the night after the match.
Later on, he became adept at picking up loose balls in tight quarters due to his low center of gravity.
Awareness and attention to details :He has also become aware of teammates' tendencies and preferences, which he attributed to taking care of his mother.
Relationships
Edit
Nozomi Tsukamoto/
Edit
- His specialty is perfectly removing pudding from its packaging.
- He likes milk and he dislikes huge crowds.
- His favorite word is 'Orderliness'.
- Girlfriend: I would be happy just making someone else happy in the future.
References
Edit
Ad blocker interference detected!
Wikia is a free-to-use site that makes money from advertising. We have a modified experience for viewers using ad blockers

Wikia is not accessible if you've made further modifications. Remove the custom ad blocker rule(s) and the page will load as expected.