Tsukushi Tsukamoto
(柄本 つくし,
Tsukamoto Tsukushi
) is the main character of
Days
and a freshman at
Seiseki High School
, where he joined the football club despite being a beginner. His squad number is #17. He's childhood friends with
Sayuri Tachibana
who lives next door and is good friends with
Jin Kazama
.
Appearance
Edit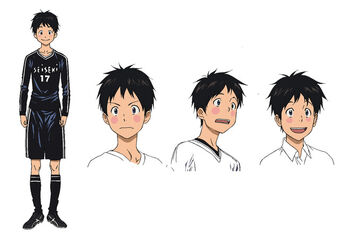 Tsukushi is a skinny boy with blue eyes and untidy dark hair.
Outside of training and matches, Tsukushi's clothes are ordinary and he often dresses in simple T-shirts and shorts. His training gear consists of school training shirts, sports shorts, and Jin Kazama's old training shoes.
When playing for Seiseki, Tsukushi wears Seiseki's black home kit or yellow away kit with black boots.
Personality
Edit
Tsukushi is very timid at first due to the incessant bullying he received but still he is extremely polite. He is very honest about his feelings, almost to the point of stupidity. He tries his best to work for the team even though he doesn't have the necessary skills and always strives to be better to ease the tension of his senpais and classmates. However, after the last match at the Inter-High Prelims against Suka High, he became more confident and started orienting his goal to get better for himself and not for others.
Although very diligent he is not that academically smart, being average at most. He will never hesitate to get the ball even when the team is in a pinch. He is very determined at finishing the plays that he has been entrusted with and although he has no other spectacular qualities, he can run for the life of him. In terms of pinch running, he is Seiseki's best. One of his only redeeming qualities as of now.
He also has the tendency to overreact when stuff abnormal, to him, happen. He is greatly identical to Seiseki's team Captain, Mizuki Hisahito, in the sense that both of them were not born talented and Mizuki had to work his way to the top. They both also only started playing football the first year of high school.
According to Usui Yuuta, Tsukamoto's grades are decent compared to his fellow freshmen, so he is still an asset to help out in the study group in the future once the seniors graduate, and may even be a decent teacher due to his perseverance.
He is very non-competitive, so he feels uneasy to be in competition between teammates, even when it is healthy and a necessary part of life in general. But as time goes on, he heaped a lot of pressure on himself to improve in all aspects of his game.
If his skills develop well, then he has the potential to be Seiseki's Fourth Arrow.
Tsukushi has been raised by his mother for the most of his life. She has greatly influenced his personality, due to being in a wheelchair and teaching Tsukushi to be considerate to people.
High Pain Tolerance: Tsukushi has displayed on many occasions that he can endure pain to an
Ad blocker interference detected!
Wikia is a free-to-use site that makes money from advertising. We have a modified experience for viewers using ad blockers

Wikia is not accessible if you've made further modifications. Remove the custom ad blocker rule(s) and the page will load as expected.